"All I need to live is my herd of goats. I feed myself from their milk, I drink from their dung, and I weave from their wool. If I lose the goats, I lose everything.'
Grandmother Tsetsun – Changtang Highlands, Ladakh
Nomads are absolutely dependent on their herds. Most of them are illiterate, unable to support themselves in the city. They live high in the mountains in unimaginably harsh conditions, and everything they own fits into one tent. They only need a community and a herd of goats to survive. But the winters in Changtang are becoming more and more harsh, the herds are starving and dying. And if there are no goats, there are no nomads.
Let's not let the goats go hungry and help keep the nomads in the mountains where they belong.
How does it work?
Thanks to cooperation with the Tibetan Government-in-Exile, we have an overview of the poorest nomads in Changtang. Every year, before the onset of the worst winter, the local government buys bags of fodder and distributes them to families in the plains and villages. In the spring, if necessary, he will buy goats to replenish the herds with the greatest losses. But we are trying to prevent this and find the means for enough feed. He then sends us all the documentation, and you can see their faces, although beaten by the wind and cold, but humble and grateful for the help they receive.
We care about the poor nomads and their herds. Come don't let them starve.
NOMADIC CULTURE IS CEASING WE WANT TO HELP THEM
We will feed them together
Where Goat ProTibet helps?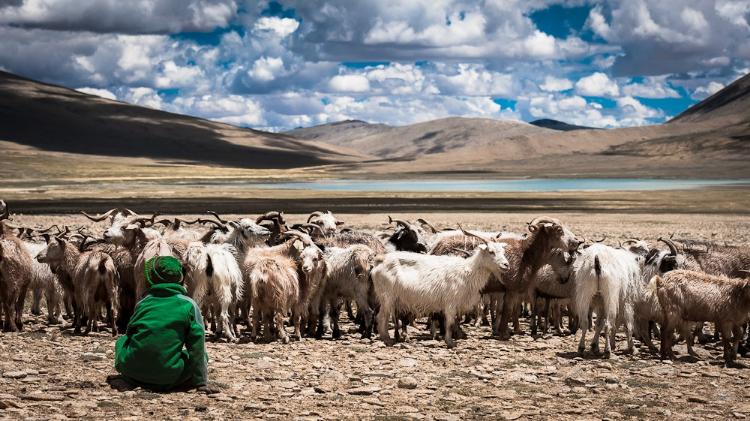 Nomadic families from the Changtang - Ladakh region
Since 2011, we have been supporting the poorest families in the Indian Changtang area. Nomads live at altitudes above 4,500 m above sea level. We mainly focus on the areas near the villages of Sumdho, Ňoma and Puga. During those years, almost 1,000,000 CZK traveled to the area.